Want to enjoy an Americano without having to stand in the Starbucks line? If yes, then you should make one at your home. 
Coffee is a popular drink that gives you the energy to go through your day. According to a study by the Centre for Economics and Business Research, people in the UK consumed more than 95 million cups of coffee daily.
This study showed an increase of more than 25% from 2008 when the daily coffee consumption by people in Britain was around 70 million cups. 
But that is not all…
Most people prefer enjoying different coffee drinks such as the Americano. But, when it comes to making an Americano, most people think you need an espresso machine to make one. That's not true buddy!
In today's blog, we'll cover: how to make Americano without an espresso machine. So continue reading to learn different methods for making it at your home!
What is an Americano Anyway?
In simple words, Americano is just espresso with hot water. 
During the Second World War, the American soldiers experimented with the traditional espresso that would satisfy their taste buds and get this new drink which we call Americano.
How to Make Americano without an Espresso Machine?
There is no need to worry if you don't have an espresso machine at your home. You can use some other tactics to make an Americano at your home, let's go over them in more detail. 
Steps to Make an Americano with a Moka Pot
You can use a Moka pot instead of the espresso machine to make an Americano. Here are the few steps that you need to follow: 
Step 1 
The first thing you need to do is grind the whole coffee beans for your double shot of espresso. Keep in mind that you need to use a precise measurement of 18 to 20 grams to enjoy a good flavour. 
Pro Tip:
You must always go for good quality coffee beans in order for this recipe to work properly so make sure they are fresh-tasting ones that won't give off any unpleasant odours while being brewed through the process of making an Americano. 
Luckily, we know of an RFA Certified brand that offers a range of coffee beans with different flavours. It's none other than Kahwati. Okay, enough of the talk, let's proceed with the recipe!
Step 2
Next, you need to add to fill up the bottom chamber of your Moka pot. You should add around 1 ⅜ cups (330 grams) of water till it reaches the valve.
Step 3
The third step entails placing the espresso into the basket. One thing to keep in mind is that you need to use your fingers to flatten the top. Don't tamp the coffee, just remove the excessive coffee with your hand.  
Step 4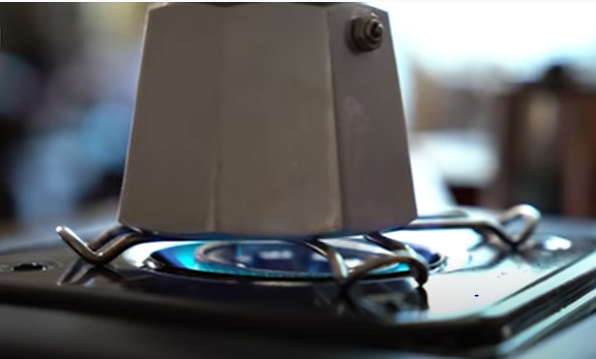 Once you've filled the Moka pot, you now have to put it on the stove on medium heat. If you have a gas stove, then ensure that the flames are not bigger than the pot's width. It will take a few minutes, around 3 to 4, for the coffee to brew. 
After you start hearing some bubbles forming, the espresso would ooze into the above chamber. While your espresso is brewing, you can heat 3 to 4 ounces of water to add to the espresso. 
Also read on: how to make Americano with milk?
Step 5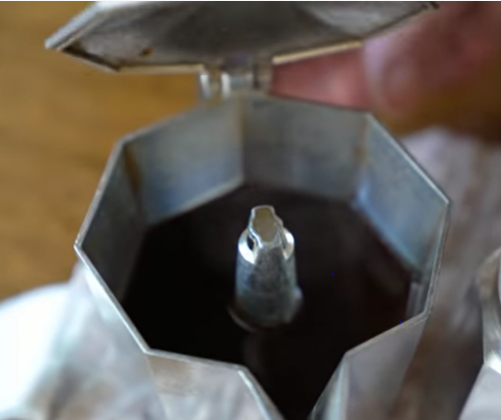 Turn off the stove, open the top, and have a look inside. You should see that the chamber is full of coffee. If that is not the case, turn on the stove and place it over again. 
Step 6 
Pour the hot water into a cup or a glass. Take the espresso and then slowly pour it over the hot water. 
And that is pretty much it — you have your homemade Americano without using an espresso machine. 
Steps to Make an Americano with Nespresso
If you don't have a Moka pot, then we have another simple and amazing way to help you make an Americano at your home. In this method, you would need a Nespresso machine and it only involves steps: 
Then add hot water to make an Americano
This process is quick, easy, and hassle-free which will give you a single shot of Americano in no time. 
If you want to have a stronger coffee, then you can simply double up the recipe. 
All you would need is two Nespresso-compatible coffee pods. While making an Americano might sound difficult using the Moka pot, you won't have to go through a lot of trouble to make one with your Nespresso machine.
Whether you use the Moka pot or Nespresso, both machines will give you an optimal taste. So, you would enjoy the same flavour for your Americano as you would get by making it with an espresso machine. 
Is there More Caffeine in Americano Compared to Coffee?
Most people today focus on having a healthy balanced diet. So if you are conscious about your health and keep a measure of your caffeine intake, you might want to know how much caffeine is in an Americano.   
There is no exact amount for an Americano since it will depend on how many shots of espresso you are adding. The more the espresso shots, the higher the caffeine in your drink. Nevertheless, it is safe to say that the traditional Americano has much less caffeine than your regular cup of coffee. 
According to a study, the 8-ounce drip coffee contains around 170 to 180 milligrams of caffeine. On the other hand, the same amount of Americano would contain around 60 to 70 milligrams of caffeine. So it is safe to say that you can consume the Americano without having to worry about caffeine.
Start Making Your Favorite Drink at Your Home Today Without an Espresso Machine 
Now that we've told you how to make Americano without an espresso machine, it is time to make a hot cup for yourself. And if you want to adventure with some different variations, then surely can. 
Become a barista on your own and try out the different variations of the Americano, such as Iced Americano, Fat Americano, and a lot more!
Most importantly, you should stock up on the Nespresso coffee pods so you can make an Americano whenever you want.