If there is someone in your life that is a coffee lover, then there is nothing better than giving them a coffee beans gift set.
It will make their day more memorable and can be the best way to show your love and affection. However, the taste and flavour preferences may vary from person to person. So, it becomes slightly difficult to choose the right gift set for your special ones.
Nevertheless, we are here to help you with it. This article will give you an insight into our best coffee beans gift set. These sets will be an optimal choice for every occasion and make a perfect present for your loved ones.
Want to know the best part? Since Christmas and the holiday season is just around the corner, these gifts will be the surprise you can give to coffee enthusiasts!
Best Coffee Beans Gift Set that You can Get for Your Loved Ones 
Choosing the right coffee beans gift set will allow your loved ones to enjoy a variety of coffee flavours. On that note, here are the best ones that you can choose from according to your preference.
Kahwati Starter Volume 1 – Freshly Roasted Whole Coffee Beans with Two cups & Saucers
On top of the list, we have the Kahwati starter volume 1, which is a complete package and an amazing treat for your loved ones.
It is a unique gift idea that comes with freshly roasted whole coffee beans. The 1kg of whole coffee beans can be found in dark or medium roast depending on your choice.
What's more? You have the luxury of choosing the coffee grind level as per your liking.
The dark roast coffee has a full-bodied, bold flavour that is enriched via the roasting process. Additionally, the blend has a rich and hearty taste with slight notes of cocoa, hazelnut, and vanilla. Whether you pair it with cow or nut milk, it will open up exquisitely.
And if you enjoy a strong caffeine boost with a pleasant aroma and thick aroma, then the dark roast is an optimal choice for the taste buds!
Next, we have the medium roast coffee, which is neither too strong nor too light, just perfectly balanced coffee, with delicate flavours. These medium-roast coffee beans will be ideal for espresso lovers.
Furthermore, other amenities that come with the gift set include 2 cups and saucers. So, not only do you get the best coffee beans in town to make your coffee, but you also have a fantastic set of cups and saucers to enjoy it. A win-win situation!
Send this amazing gift set to your loved ones by buying it here! 
Coffee Connoisseur Set – Freshly Roasted Whole Coffee Beans with Ground Coffee and Cardamom Pods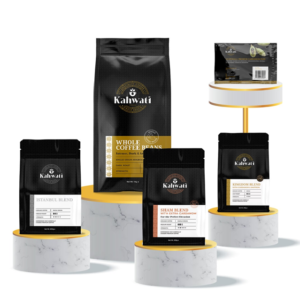 Next up, we have the coffee connoisseur set which is an all-in-one solution for you. It comes with freshly roasted whole coffee beans along with ground coffee and cardamom pods.
So, the recipient of the coffee connoisseur set will have the convenience to enjoy their coffee with a wide range of options. Here is what you can find in the gift box:
Whole Beans Dark Roast 1kg – The dark coffee roast gives you the caffeine boost to start your day. The thick crema and aroma of these beans can give you something amazing.
Kingdom Blend 250g – Experience the taste of Arabic coffee with the Kingdom blend. It gives you a smooth, mellow flavour while capturing most of the caffeine from the beans.
Istanbul Blend 250g – The traditional Turkish coffee that helps you get an idea of the amazing Turkish cuisine.
Sham Blend 250g – The perfect blend with the notes of bittersweet cocoa and a complex fruity edge.
Green Guatemalan Cardamom Pods 50g – Lastly, the cardamom coffee pods will allow your recipient to prepare a hot cup of coffee anywhere at any time through their Nespresso machine.
All these things make the coffee connoisseur set the best choice for the Christmas season coming up. So, if you have a coffee lover in your family, then this might be the right time to get this gift set for them.
Buy this gift set to treat your loved ones here!
Why Choose Kahwati?
Today, there are a plethora of brands available in the market, so what makes us different? Well, we focus on the coffee drinkers' experience more than anything.
We understand how preferences can vary from person to person. That is why the coffee beans gift set entails everything that will fit according to the choices of every coffee lover. You'll have the peace of mind that the recipient would love the gift set you send.
The best part is we offer these gift sets to our customers at budget-friendly pricing. That way, you can send your loved ones the perfect gift!
Most importantly, we have a commitment to protecting the environment and we firmly stand by it. Our coffee beans come from farms that use ethical processes and environmentally friendly methods.
Moreover, the Nespresso-compatible coffee pods are completely recyclable. Our partnership with Podback allows us to deliver them the pods that you have already used. They'll recycle and reuse these pods, ensuring no harm to the environment.
And let's not forget the amazing and high-quality coffee that you can get from our products. It gives you a unique experience and is a delight for coffee lovers. All these factors make Kahwati the best brand for coffee in the market!
Also read on: Which coffee is better Arabica or Robusta?
Final Thoughts
With the holiday season just around the corner, it is time to start buying gifts for your loved ones. We understand how difficult it can be for you to find the right gifts, depending on each individual's personal preference.
That is where the coffee beans gift set can save you from the hassle of finding a gift for the coffee lover. You can deliver a customised package for your loved ones to tell them about the present.
Moreover, you can also shop for a wide variety of coffee products available on our website. Make your coffee experience worthwhile by choosing Kahwati!