As a coffee fanatic, you're always in the search of finding the best coffee beans. 
Regardless of what you're doing or the time of day it is, you might have a craving for a hot cup of coffee. It is something that we want to enjoy for keeping ourselves warm on these long nights of the winter season.
Since coffee is such an important part of most people's daily routine, they are continuously looking for the best coffee beans for sale in the UK. So, if you are on the search for the best coffee beans at a budget-friendly price, then you have come to the right place.
Kahwati has an extensive range of coffee beans that will allow you to easily access some of the best and high-quality coffee beans in the market. Let's delve deeper into the amazing coffee beans we have to offer.
Range of Coffee Beans for Sale in the UK
The exceptional line of coffee products from Kahwati offers you a plethora of flavours that you can try. It also makes it easy for you to choose from a variety of coffee beans according to your taste preference.
Whole Coffee Beans – Dark Roast
Whether you have a Nespresso or a Breville espresso machine, the whole coffee beans with a dark roast is a go-to option. The smooth yet strong flavour makes the whole coffee beans an ideal option for a hot cup of coffee, it can help you focus during the rush hours at work.
The slight aftertaste of brown sugar with a velvet touch will make you drool over amazing flavours. To top it all off, the crema gives you a unique experience since it enhances the overall taste.
Check out this amazing product for yourself by clicking here!
Whole Coffee Beans – Medium Roast
Not a fan of a very strong coffee flavour? Then, don't worry because Kahwati has you covered! You can get whole coffee beans with a medium roast. With a slightly mellow taste, you'll also enjoy notes of cinnamon, chocolate, and caramel.
All-in-all, it is a complete package for you to get high-class coffee anytime you want. Want to know the best part? These coffee beans will go well with any type of nut milk.
Get your hands on these coffee beans here!
Whole Coffee Beans – Defac Coffee
Tired of the same old dark and medium roast whole coffee beans? Then, the Defac coffee from Kahwati is an option worth trying. It is neither too strong like the dark roast nor too smooth like the medium roast. So, you can expect to enjoy just the perfect balance of taste from it.
The mellow and creamy flavour of Defac coffee might get you hooked up with it. We leverage the Swiss Water process, which ensures that the beans don't lose exceptional flavours and aromas when decaffeinating the coffee.
As a result, you get a full-bodied cup of coffee that has a slightly sweeter taste. Therefore, it is an amazing option for various espresso-based drinks such as Latte, Americano, Macchiato, Cappuccino, etc. It is also an ideal choice if you prefer to drink drip coffee throughout your day.
Check out this coffee product right here! 
Whole Coffee Beans – Roma Blend
The Roma blend is a mixture of dark and intense flavours that give you an aromatic feel when sipping a hot cup of coffee. These whole coffee beans entail bold flavours which are enriched during our roasting process.
So, if you are a fan of espresso, then the Roma blend is just the thing that you need. You can expect to get a strong caffeine boost that will help you stay in a refreshing mood throughout a tough day.
Additionally, you'll find notes of caramel and dark chocolate along with a thick crema to top it all off. We would recommend that you pair it with oat milk for a much better flavour.
Check out this fantastic coffee by purchasing it from here!
Whole Coffee Beans – House Blend
Last but not least, we end our wonderful collection of coffee blends with the unique house blend. It is a distinct yet juicy blend that would want you to get hooked up on it.
We have worked with our partners to source the best coffee beans from Latin America and East Africa to get you something distinctive.
This sweet and juicy coffee blend is something worth considering for people who want to enjoy lighter blends. Our brewing process ensures a complete balance of fruit and chocolate that helps us produce this amazing and complex blend.
Buy this product by clicking over here!
Why Choose Us?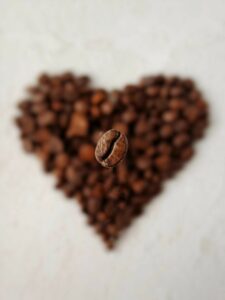 With so many brands out there, you might be wondering what makes Kahwati stand out from the rest of them. Apart from our best coffee beans for sale in the UK, some crucial factors differentiate us from other brands.
High-Quality Brew without Any Hassle
We know how consumers have to stand in long queues to get their favourite coffee every day. And that is why our extensive product line allows you to make and experience a variety of coffee flavours at your home. You can enjoy a hot cup of coffee anytime you want!
Sustainability and Eco-friendly 
The world is rapidly focusing and moving towards a sustainable future. We want to contribute and take part in efforts that ensure we get our products through ethical and environmentally friendly. Moreover, all of our products are recyclable, including the Nespresso-compatible pods.
Ease and Convenience
We aim to deliver you the best user experience when you order coffee beans from us. From browsing through the website to the final checkout stage, we have streamlined every step for you to order and enjoy your favourite coffee products.
Buy the Best Coffee Beans in the UK Today!
Now that you're aware of the best coffee beans available at pocket-friendly prices in UK, it is time to start shopping around. So, go through Kahwati's line of coffee beans to enjoy barista-quality coffee at your home.