Arabic coffee is one of the best drinks that you'll find in different cultures globally. But how do you find the best one in the UK?
Well, we have the answer right here for you in this article. There are a plethora of options available for consumers today for Arabic coffee.
Therefore, it can be a bit difficult for them to make the final choice. Nevertheless, finding a reliable brand that focuses on the sustainability aspect is optimal to get the best Arabic coffee.
In this article, we'll let you know about the best Arabic coffee options that you can easily find in the UK to experience traditional Arabic coffee. We'll discuss their blends and the aspects that set them apart.
So without further ado, let's get right into it!
Best Fine Arabic Coffee UK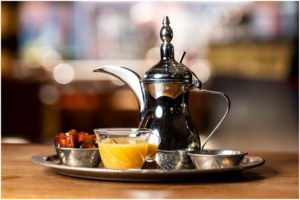 To make things easy for you, we have listed some of the best options that you can get from Kahwati for Arabic coffee in the UK. You can easily get access to the best coffee and create magic at your home.
Arabian Blend— Green Cardamom
If you are someone who enjoys a good crema and a smooth flavour from your coffee, then the Arabian blend is the optimal choice for you. It comes with a dark chocolate finish and is infused with luxurious green cardamom.
Moreover, the velvet touch further enhances the overall taste of the coffee. Since it is a medium roast, you'll enjoy the slight sweetness with notes of heavy dark chocolate hum. All in all, it can help you make your day.
Make the Arabian blend (with added green cardamom) your new favourite coffee drink by clicking over here
Istanbul Blend— Turkish coffee
Our Istanbul blend can also go perfectly with your espresso machine and deliver an amazing espresso shot. You won't have to worry about the taste since this blend is deep, rich, and hearty.
The best thing about our ground coffee is its rich aroma and the lack of bitterness.
It gives you the right amount of caffeine kick to get through a tough day. The excellent crema on the top is not only delicious but aesthetically appealing as well. So, if you have guests coming up to your home, then our Istanbul Blend ground coffee is the best drink to present to them.
You can buy it by clicking over here. 
Kingdom Blend— Arabic- Saudi Coffee
The dynamic and distinctive taste of our Kingdom Blend helps it to set itself apart from the rest of the coffee beans. The medium-dark roast is something that many coffee enthusiasts crave; that is exactly what you can get from this ground coffee. One of the key elements of the Kingdom Blend is that it is non-oily.
Therefore, it reduces the chances of clogging your espresso machines, making it the perfect choice for a hot cup of espresso. The clean and crisp flavour along with the distinguished aroma makes it a popular choice for buyers.
Try the wonderful Saudi coffee by purchasing it here
Sham Blend— Extra Cardamom
Last but not least, our Sham blend is also an amazing choice for ground coffee that goes well with your experiment. It offers you a delicate and balanced taste, making it the perfect choice for coffee aficionados who don't prefer a very dark or rich taste from their coffee.
You'll also notice some hints of bittersweet cocoa that give it an optimal taste. Also, it goes perfectly with cow milk or any type of nut milk. So, you can use this ground coffee to make various different drinks too.
Want to buy this amazing Turkish coffee? Click here
What Makes Arabic Coffee Different From Traditional Coffee?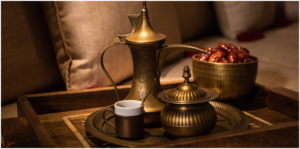 One of the things that come into the minds of coffee aficionados is what characteristics of Arabic coffee make it different from the traditional one. Simply put, the main difference is that Arabic coffee comes from the Arabian Peninsula and has slightly different methods of preparation.
A common misconception that most people have is that there is a different type of coffee bean used to make Arabic coffee.
That is not the case since Arabic coffee uses the same Arabica bean that you find in your lattes and espresso. It is the brewing process that makes it different. Also, it is a symbol of hospitality and generosity in Arabic culture.
Also read on: Arabic coffee for weight loss
Why is Sustainability so Important When Choosing a Coffee Brand?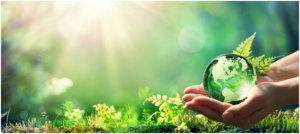 There is no doubt that the coffee market is highly lucrative and brands have ignored the aspects of sustainability for that. However, consumers today focus more on buying products from companies that put sustainability at the forefront.
The case is no different when it comes to choosing a coffee brand. Most coffee manufacturers traditionally made coffee pods using plastic, which isn't environmentally friendly. However, that approach is now changing since many are now using aluminium for manufacturing coffee pods.
Kahwati and Sustainability 
One of the things that helps Kahwati to stand out from the rest of the brands is our approach towards sustainability. We don't only offer you a wide range of coffee products, but also ensure that environmentally friendly. You'll find this thing throughout our product line.
Most importantly, we have collaborated with various organizations that help us with our approach towards sustainability. Podback is just one of the organizations that accept recycled coffee pods. So, when buying from Kahwati, you can have the peace of mind that the coffee you are consuming isn't significantly impacting the environment in a negative way.
Final Words 
We hope you now have a clear idea about the different Arabic coffee that you can find in the UK. We aim to help you get access to the best Arabic coffee from the comfort of your home.
So, you can go through the different coffee flavours mentioned in this article and choose the best one according to your preference. Order it today and we'll send it to you as soon as possible!