Have you ever thought about trying something different with your Americano like adding milk to it? Do you wonder how it will affect the taste? 
An Americano is a popular drink that gives your energy right after you get out of your bed to carry out your daily activities. Some people refer it to as "Café Americano" which means American coffee. 
Unlike other different coffee drinks, such as cappuccino, latte, etc., you won't have to add any milk to make an Americano. But, what if you want to try out something different and make yourself a hot cup of Americano with Milk? 
Well, you certainly can! 
In this article, we will cover the Americano with milk recipe that you can easily and quickly make at your home. But before that, let's understand what an Americano with milk is. 
What is an Americano with Milk?
An Americano with milk is an espresso-based drink in which you only add milk to the traditional Americano.
It is made by adding hot water to espresso and then topping it up with milk. One key element about an Americano with milk is that it is neither as creamy as a latte nor as strong as the espresso. 
A cappuccino or a latte contains a lot of milk with just a single espresso shot. They have a relatively sweeter flavour with a little taste of the espresso. 
On the contrary, the Americano has a much stronger flavour than the espresso. It is made with a single or double shot of espresso with hot water. 
Americano with Milk Recipe: Step by Step Process 
Most people want to add milk to their Americano to reduce the strong flavour of espresso to cut down the bitterness without having to add any sugar or sweeteners. 
The best thing about the Americano is that it is relatively easier and cheaper to make one at your home. You don't need a lot of ingredients or equipment to get the same taste as you'll find at a coffee shop. 
Before we move on to the recipe for Americano with milk, you need to keep a few things in mind. The most important element is choosing the right espresso coffee beans (medium-dark to dark roast). We normally use kahwati Speciality Cofee Beans and experiment different flavors. For your reference, here is the link to Buy.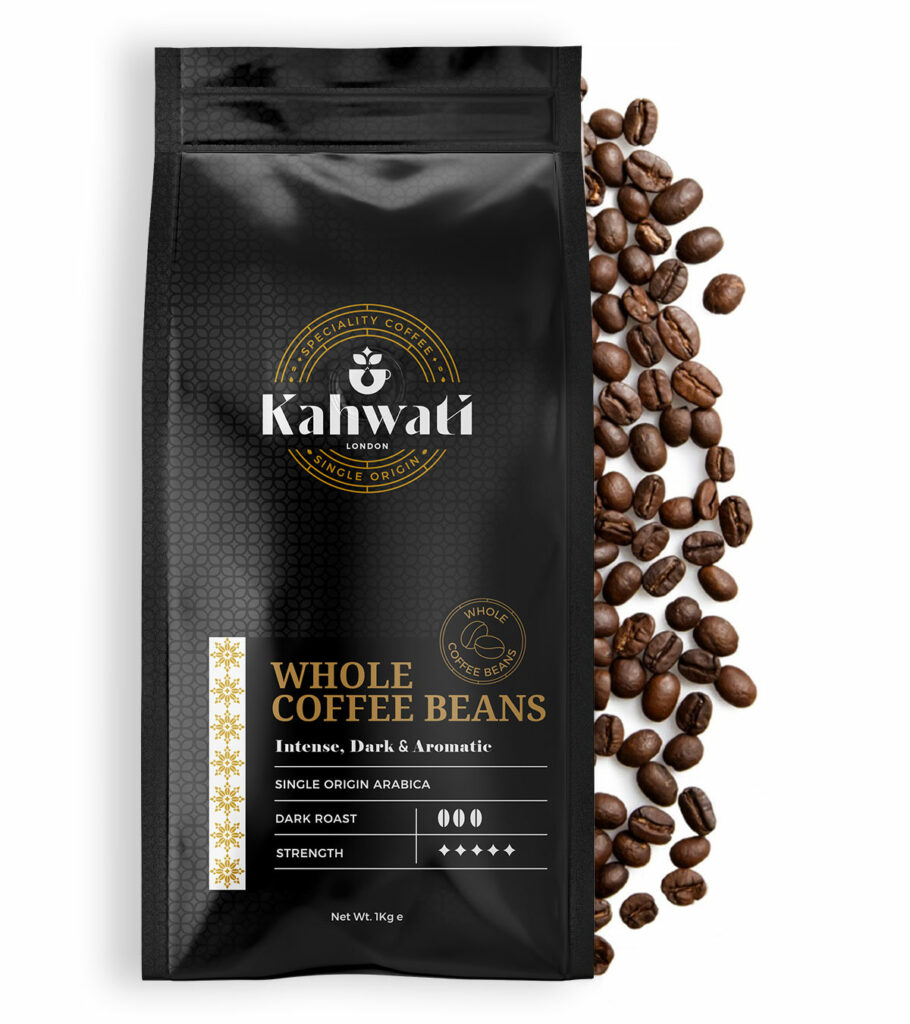 Choosing the right coffee beans will significantly impact the taste of your drink. Let's move on to the step-by-step process for making an Americano coffee with milk. 
Also read on: How to Make Americano Coffee with Espresso Machine? 
Step 1 – Make Sure Your Coffee Beans are Extra Fine 
The first thing you need to do is ensure that the coffee beans you are using are grinded finely. You can measure the precise amount of coffee beans with your kitchen scale. 
The quantity you choose will depend on whether you want to make a single or a double shot of espresso. Use your grinder so you can get coffee beans in fine powdery form. You can also buy Ground Coffee beans to skip this step.
Step 2 – Prepare the Espresso Shots 
Next, you need to make an espresso shot using an automatic espresso maker. First, you need to place the coffee into the clean portafilter. Next, you need to use the tamper to ensure that the coffee is tightly packed. Use the coffee machine to pull out an espresso shot by setting your machine accordingly. 
Step 3 – Add Hot Water to Your Espresso Shot.
After you prepare your espresso shot, you need to pour hot water over it. Typically, the quantity of the water will be double that of the espresso. However, it is up to you regarding how much water you want to add to your Americano to reduce the strong flavour of your drink. 
Step 4 – Stream Your Milk and Add to the Americano 
Take your favourite milk and then heat it. Next, you need to pour it over your cup of espresso and enjoy your hot cup of Americano.  
The main purpose of adding hot water to the Italian espresso is to reduce its bitterness. However, if you want a much creamier taste then steamed milk is the best go-to option. There are also different types of sweeteners you can add such as: 
Whether you want an espresso-based drink with your breakfast or during the night while reading your favourite book or watching a movie, the Americano with milk is an exceptional drink to have by your side. 
What Type Of Milk Should You Use for Americano?
You might have a question regarding which type of milk you should use for your Americano. This question comes into the minds of people who are concerned about their calorie intake. Therefore, they want to know about the calories in each milk. 
There is no specific type of milk that you can add to the Americano of your choice. To help you out, here is a list of different types of milk and the number of calories in it.  
| | |
| --- | --- |
| Different Types of Milk | The Number Of Calories: |
| Whole milk | 18 calories |
| Soy milk | 12 calories |
| Oat milk | 15 calories |
| Non-fat milk | 13 calories |
| Almond milk | 5 calories |
| 2% fat milk | 15 calories |
Each of these types of milk will sit perfectly with your Americano. You can choose any one of them, depending on the taste or calorie intake.
Make a Hot Cup of An Americano with Milk Today! 
The recipe of the Americano with hot milk is now in front of you, so it is time to start making one. It is an ideal drink for anyone who wants to add a splash of milk so it doesn't have the same strong flavour as an Americano but isn't as milky as a cappuccino. 
So, if you are someone who doesn't prefer going to the coffee shop more than too often, then the Americano with milk is a quick and easy drink you can enjoy at your home. You don't have to go through a lot of hassle and will have an espresso-based drink in no time.
Try out the amazing Americano with milk yourself and experience a completely different flavour of this espresso-based drink!